Most of us would be none the wiser because she just looks so darn good. Well, she did reveal that she hired a night nurse so she could rest at night, which will do wonders for reducing your post-baby dark circles. In any case, Megan is flaunting a dramatic yummy mummy look here, with voluminous hair and bold makeup to match.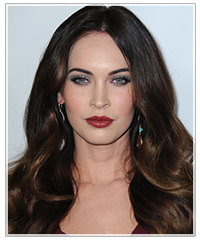 Her hair is in the classic Megan Fox style-- long, wavy and parted in the centre. Her oval face looks fab in this style and you know what they say—if it ain't broke then don't fix it! Her makeup is not her usual style however. Who knows, perhaps it is reflecting her more serious outlook on life after becoming a mom. Megan has gone for an icy silver eye shadow and black eyeliner to define her light blue eyes. She has opted for an equally bold lip, choosing a ruby red shade and cheek rouge to match. A softer lip would have worked nicely here, or a minimalist eye with that dark red lippie. But hey, she's Megan Fox and can carry off anything she wants to. What do you think of this look?
To see how you'd look with the great hairstyle pictured in this blog, click on the above image to try the virtual hairstyle with your own photo!