Kylie Jenner seems like one of more subdued members of the family, but she still flaunts the signature Kardashian style. Here, she goes for full-on hair and makeup, which is quite a bold look for someone with such petite facial features. Still, she pulls it off. Here's how you can get it: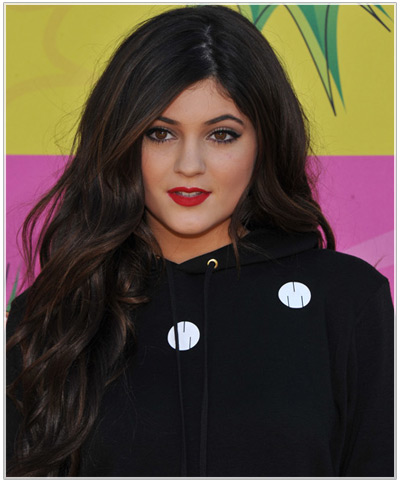 The Hair: Kylie is wearing her hair in its natural state-long, loose and wavy. If you aren't blessed with the same natural abundance of hair, apply a root-boosting spray and hair mousse throughout the lengths of your towel-dried hair and set them in large hair rollers. After your hair has set, unroll and create a deep side part. Spray into place.
The Makeup: Kylie has defined her eyes by using deep brown smoky eye shadow and lining them with a rich black eyeliner. Her brows have been filled in to create a dramatic look. Her lips have been carefully painted in a matte cherry red lipstick, which draws attention to her petite doll-like mouth. If you have dark features like Kylie, this makeup technique will work well for you. If you are fair, use lighter shades on the eyes so you don't look too OTT.
For even more helpful makeup hints, see our full range of beauty articles and beauty blogs. You can even try some virtual makeup on your own photo or our model using our Virtual Hairstyler!