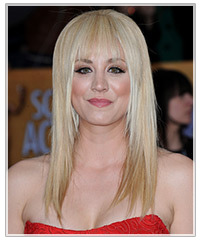 Hopefully, this was a wig, because if not, it means that her hair is seriously over processed and needs some TLC- stat!
This hairdo was a fail on many levels- even if it was a wig. First and foremost, for the hair color. While Kaley Cuoco looks fabulous as a blonde, this ultra-light buttery yellow is too harsh for her skin tone. Some deep honey blonde highlights would have broken up the color and matched her complexion better.
The next problem with this hairstyle is the cut. Kaley has a very thin fringe that starts very close to the hairline, and doesn't extend past her temples. This creates a boxy look that overpowers her face. A wider fringe that was layered around the eyes and cheekbones would have worked much better. If you're going to go for bangs, then go for them—don't do a half-fringe style that just ends up looking awkward!
Finally, Kaley has no real part in her hair and her 'bouffant' starts almost at her front hairline. This screams "wig"! Maybe she was hiding a hair disaster under there, and there is nothing wrong with wearing a wig at all. Just wear a good one—especially if you're a star and have the money to invest in a high quality one!
To see how you'd look with the great hairstyle pictured in this blog, click on the above image to try the virtual hairstyle with your own photo!