Singer, actress and pianist Delta Goodrem is a natural beauty from Down Under that has those classic Aussie looks—tanned skin, blonde hair and a gorgeous figure to boot! It's hard to believe that at one point in her life Delta had lost all of her hair to chemotherapy treatments, but thankfully she has fully recovered and is back in top form. Delta is usually seen with super long locks in varying shades of blonde, but which style and color suits her better?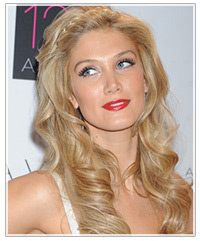 Here is one of Delta's more recent looks, where she sports super long curled hair in a light champagne blonde color. Delta has an oblong face shape, so one thing this style does is exaggerate the length of her face- oblong shapes should keep their hair shorter to compensate. She is also wearing her hair back off her forehead, which again highlights the rectangular shape of her face. On the other hand, the light blonde color looks gorgeous with her skin tone and light blue eyes.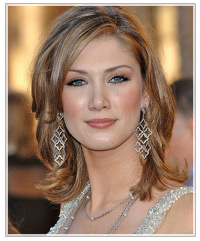 Here, we see Delta rocking a darker blonde 'do with gold tones. This color also looks gorgeous with her blue eyes and peachy skin, and is more natural looking than the light blonde (above). This haircut also suits Delta's face better—the shorter length and layers around the cheeks and chin balance out her oblong face shape.
If you were Delta's stylist, what would you recommend?
To see how you'd look with any of the great hairstyles pictured in this blog, click on the above images to try the virtual hairstyles with your own photo!