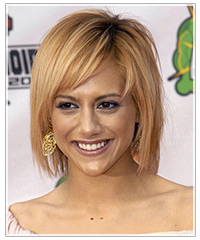 She's one of our favorite actors and hair icons and we're sad to see her gone. Reports state that Murphy was staying at an LA home that belonged to her husband when an emergency call was made at 8 am on Sunday morning. She was taken to Cedar-Sinai Medical Center where she was pronounced dead on arrival.
Brittany Murphy was a movie star who dabbled in music. She was best known for her role in the films Clueless, Just Married (with Ashton Kutcher), Uptown Girls, 8 Mile and Don't Say a Word, and she collaborated with Paul Oakenfold on a music single called "Faster Kill Pussycat" which was a nightclub hit.
Ex-boyfriend, Ashton Kutcher, has sent his condolences to the Murphy family via Twitter, writing: "2day the world lost a little piece of sunshine. My deepest condolences go out 2 Brittany's family, her husband, & her amazing mother Sharon. see you on the other side kid."
Check out out favorite Brittany Murphy hairstyle above and the same one in the clip below (at about 5 mins). She was great in Sin City, don't you think?