If this is the case, grab some inspiration from our style gallery and see what kind of bold hair colors celebs with dark skin are rocking. Just make sure you also have the attitude and crazy fashion sense that is needed to pull it off!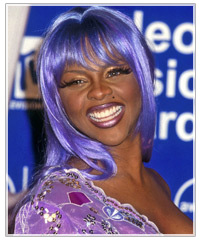 Lil' Kim doesn't do hair by halves, and this lilac-hued hair is no exception. It's unrealistic to think you can get violet that looks this good through hair dye, so grab a wig like Lil' Kim and pop it on whenever you need a boost of color.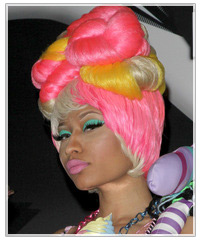 Nicki Minaj's hair looks good enough to eat in this photo! Her bubblegum pink and lemon yellow hair matches her equally bright makeup and wacky fashion sense. We'd suggest just going for one of these bright colors, especially if it's your first time rocking a fluorescent shade. Pink looks great on dark skin. From candy floss to bright fuchsia, the options are endless. Yellow is more difficult to pull off, but if you want to try it out, go for a bright yellow or gold for best results.
To see how you'd look with any of the great hairstyles pictured in this blog, click on the above images to try the virtual hairstyles with your own photo!