She tends to shy away from the red carpet these days, but Angelina Jolie never fails to impress when she does make a rare appearance. Looking fresh, youthful and sophisticated, Angelina showed up with simple hair and makeup at her most recent red carpet event, which is true to her signature look over the years. Check out some of her top looks, past and present, below to see how Angie maintains her killer sense of style.
When you're one of the world's most beautiful women, you don't really need all the bells and whistles when it comes to your hair and makeup. In Angelina's most recent look, she proves just that. Her makeup is natural looking, some would say barely noticeable, and she lets her natural beauty shine through. This is a good tip for women to use as they get older— less is definitely more when it comes to looking youthful. Her hair is also simple, elegant and au naturel here, in a soft cinnamon brown shade. There's not much to her style here—the hair is simply blow-dried and worn back off the face—but it matches her cool, laid back vibe.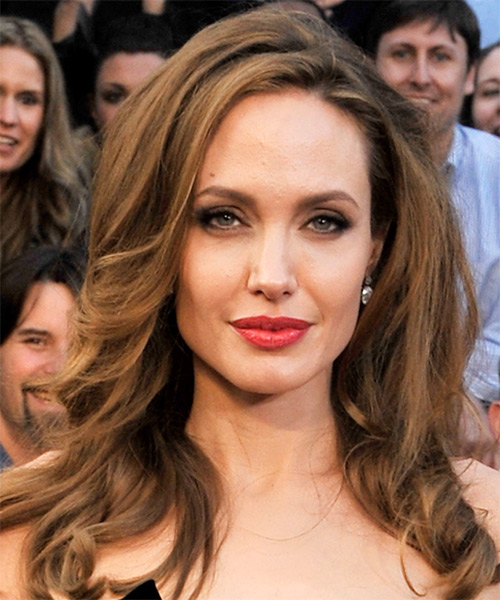 While the photo above represents the everyday Angie, this photo is the 100% Hollywood version. Angeline looks every bit the megastar here, thanks to her voluminous hairstyle and those killer red lips! Her hair colour is slightly lighter here with a caramel brown base that has highlights added throughout for an all-over sun kissed look. To style, Angie has amped up the volume on the crown and added tumbling waves all over for an utterly gorgeous look.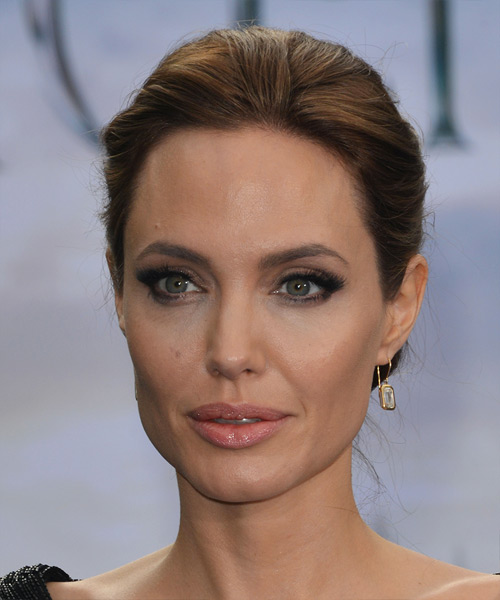 To show her more serious and demure side, Angelina often wears a sensible up-do. These hairstyles can most often be seen when she is doing charity or advocacy work and she needs to put on a more business-focused look. Here, Angie's hair is swept back towards the nape of the neck and then twisted and pinned at the back of the head. This relaxed version of a French twist suits Angie perfectly and brings out her elegant side.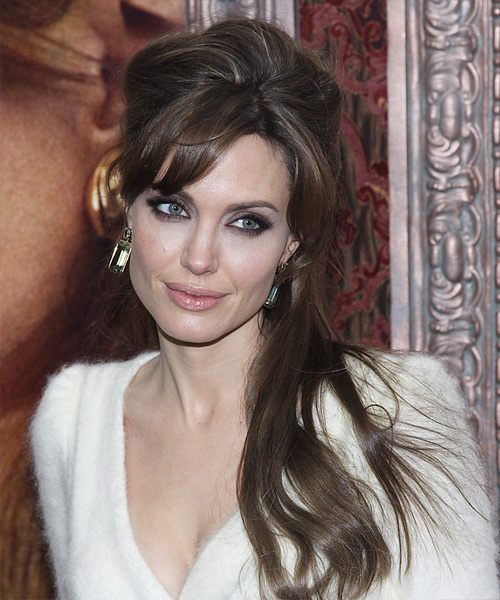 When she wants to bring out her vampy side, Angelina goes for maximum volume and style. Here, she is wearing a beautiful demi up-do that has a bouffant effect at the crown. Her side swept bangs add a nice touch and create a frame for her face. The rest of the hair is left long and loose for the ultimate evening up-do.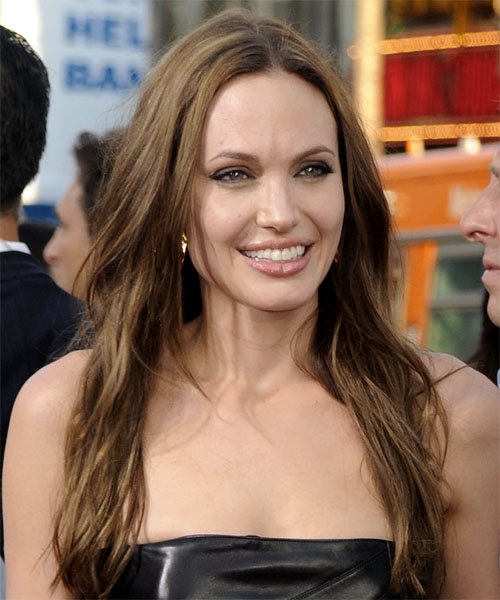 And finally, we have Angelina at her best in a simple, soft 'do. Her light brown locks have been centre parted and blow dried sleek, with extra body and bounce created through large waves. This simple layered cut provides a flattering frame for her square face and gives her that laid back cool vibe that she is famous for.
Angelina's style is simple and always reflects her low-key, down to earth personality. When others are wearing glossy makeup and perfectly coiffed hairstyles on the red carpet, Angelina still turns more heads with her simple and sexy hairstyles.