Zooey Deschanel gets tagged as "the quirky girl" often, but regardless of which funky handbag or weird outfit she is wearing, she has makeup for black hair nailed. Zooey has the whole Snow White coloring going on—raven black hair with fair ivory skin, but this makeup will also work with medium skin tones as well.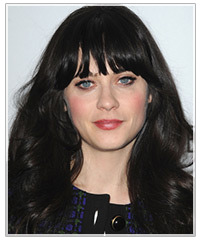 To get Zooey's makeup look, start by using cool brown eyeliner around the eyes. If you have very light eyes like Zooey, you can get away with a medium mocha color or even a soft grey. Ladies with darker eyes will look best in a rich espresso shade or jet black. If you want to add some eye shadow, bring lightness to the eyes by using a shimmery pearl, beige or mocha shade (depending on how dark and dramatic you want to go).
On the cheeks, use a cool light cherry pink blush on the apples, making sure you blend it outwards and upwards (unlike Zooey in this photo).
Finally, when it comes to the lips—think berry! Cherry, raspberry and strawberry pink shades will all work, depending on how vibrant you want to go. Here, Zooey has chosen a safe cherise pink that is a happy medium between day and night colors—a great option for ladies who like their lipstick to be versatile.