Taylor Swift keeps going from strength to strength when it comes to her hair, makeup and fashion sense. Taylor was recently spotted in Paris sporting flawless hair and makeup as she toured the city by bike, but her glamour clearly carried on into the night. At this red carpet event, Taylor is again flaunting her Parisian chic makeup style, complete with porcelain skin and perfectly painted lips.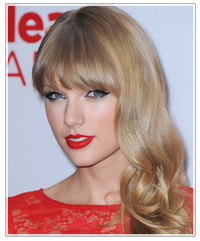 To get Taylor's makeup look, start with a flawless base. Use a primer on dark spots under the eyes and blemishes to create that porcelain effect. After you have perfected your base with foundation, bust out the black liquid eyeliner and create a dramatic cat's eye on the top lash line. Carefully connect the line from the outer bottom lash line, just like Swift.
The next most important feature is the lips. Use a matching red lip liner to create a crisp line before you apply your lipstick for best results. Taylor is wearing a soft nude blush on her cheeks, which adds some sculpting to her face, but feel free to skip this step if you aren't into blush.
Finally, make sure your hair is styled in retro waves or another polished 'do to complete the look.