Actress Stana Katic always looks glowing both on and off of the red carpet, so it's no wonder that women everywhere want to know her beauty secrets and makeup tips. But women with a similar shade of hair color - medium golden brown - will especially benefit from Stana's tools of the trade. So just how does she get such flawless makeup to match her hair color? Her biggest beauty tip is to start with fabulous skin.

In a recent interview with the New York Times, Stana professed her love of holistic skin care products and regular facials at her favourite spa in Los Angeles, the Healing Rose Center. But, if you can't jet over to LA for your next facial fix, try one of Stana's favourite facial products, Dr. Hauschka's Quince Cream. Paired up with drinking loads of water and using a fabulous under eye cream to fight wrinkles and dehydration, you will be well on your way to a glowing base just like Stana's.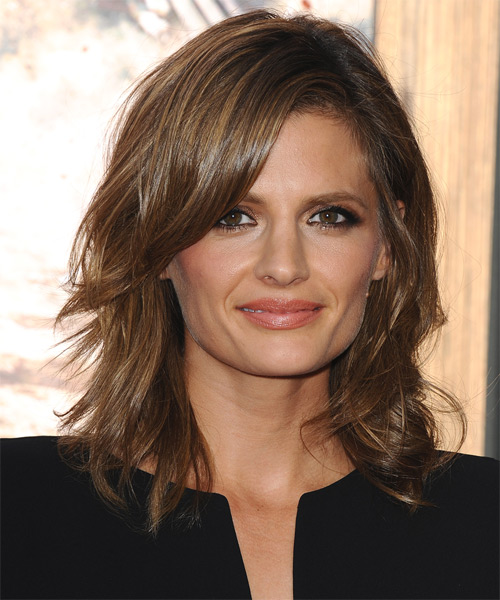 When it comes to her makeup techniques, Stana uses makeup to enhance her features, and never overpowers them. She has a warm medium skin tone and hazel eyes that compliment her golden hair color, so to amplify these features she sticks to natural earth tone shades that highlight her golden glow.

To get Stana's look here, start with a warm foundation base that will let your natural gold tones shine through. A good option is to use a tinted moisturizer rather than a foundation- if your skin doesn't need heavy coverage, that is. Then, start on the eyes. Stana has used a peach base shadow that is a great match for hazel eyes, as it intensifies the green tones in the iris. For an extra kick of glamour, use a shimmery or metallic formula. Next, layer a warm cinnamon brown shade in the crease of the eye. Follow it up by using a dramatic dark brown shade around the lash line to create a smouldering earthy look. For best results, use a thin angled applicator brush to apply your dark brown eye shadow around the top and bottom lash lines, just as you would with eyeliner. Then, softly blend the edges out slightly. Create definition by using an espresso-hued or black eyeliner. And of course, don't forget the most important part - a fabulous mascara! Stana uses Diorshow Blackout mascara, so give that a try if you really want to make an impact.

But, it's not all about the eye makeup in this case - don't forget about the rest of your face! Sculpt and highlight your cheeks with a warm bronzer or peach blush for a summery glow and to define and sculpt your look. Then, finish it all off with a shimmery nude or apricot lippie.

Ladies with golden brown hair and a warm complexion like Stana's will always look fab as long as they stick to warm honey, apricot and earth tone shades. Avoid cool pinks and purple shades in your palette and your makeup will always harmonize with your hair and skin tone. Work your golden glow!