Sofia Vergara has topped so many lists this year that it's hard to keep track—most beautiful woman, sexiest woman—the lists go on, and Sofia's always in the top five. So how does she do it? Well for one, she is always put together immaculately. From her hair right down to her shoes, she is styled to perfection. It doesn't hurt that she has a gorgeous face and stunning figure as well!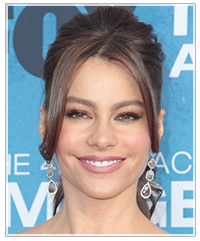 Here is one of Sofia's classic evening makeup looks that can be worn by women with a similar warm complexion. The main focus of this look is the rosy color palette, which looks fabulous on brunettes. Sofia has layered pink, brown and taupe shades on her eyelid, focusing the darker colors in the crease. Next, she has created a sexy feline eye shape with a dark brown eyeliner that wings out towards the temples. Some fake eyelashes in the corner help to extend the eye even further.
Next, she has added a rosy glow to her complexion with a soft pink blush on the apples of her cheeks and a rose cream lipstick. Her lips look soft and supple in this matte lipstick, but if you have thin lips try a sheer lipstick with some sheen to it to make your look plumper.