Shaun Robinson was glam and gorgeous on the red carpet recently, as seen in this photo. She was looking absolutely radiant in a white dress, with contrasting dark eye makeup and some teardrop earrings to add some sparkle to her look. This is a heavy makeup look, but if you have dark skin and are looking for something dramatic for a night out, give this one a try.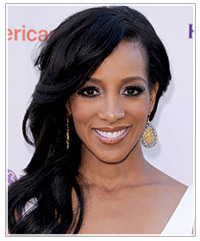 To start, Shaun has applied a metallic silver eye shadow to her eyelids, with a lighter shade on the inner corners of the eye. This is a great technique to use because it brings light to an otherwise dark makeup look. You don't need a lot of it—but a small dab of white or light silver shadow in the inner corners of the eye will do just the trick. Then, use a dark silver shadow in the crease and blend it out towards the outer eye corner.
Next, Shaun has used a black eyeliner pencil to create a uniform, thick line around her entire eye. This can make your eyes appear smaller so if this concerns you, do the top lash line only, or use a thinner line to make your eyes look bigger.
Finally, find a fabulous beige lipstick with a bit of gloss in it to finish off this dazzling look. Don't forget to flaunt a sexy hairstyle too!