Are you sick of the classic vintage look, but love to wear liquid eyeliner? Since liquid eyeliner can't be blended, smoked or smudged, it is really limited in terms of style and overall look. However, there are some techniques that you can use to look just a bit different from everyone else when it comes to your liquid liner.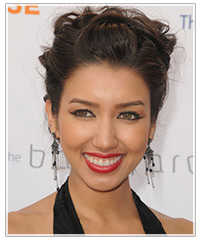 In this photo, Matthew Morrison's girlfriend Renee Puente shows us a sexy new way to wear liquid eyeliner. On the top eyelid, Renee used a simple line to the corner- no wing tips or flicks as per the usual vintage eye look. However on the bottom lash line, she has extended the line out towards the temples at the outer corner to create a wing. The result? This eyeliner technique makes the eyes look super wide and gives off an exotic Cleopatra look.
If you want to rock this eyeliner on a night out, keep the eye shadow light and neutral to avoid overkill. Renee has chosen a deep berry lipstick but since this eyeliner is so bold, a nude lip would have worked just as well, if not better.
This makeup looks great with a little black dress. Wear your hair up and a great set of earrings to look ultra-modern and edgy!