One pallet that can be tricky though is pastels. Light cool shades like lilac, baby pink and ice blue are best reserved for cool skin tones, but it is possible to wear them if you have a warm skin tone as well, just as long as you choose the right product formulas and apply sparingly!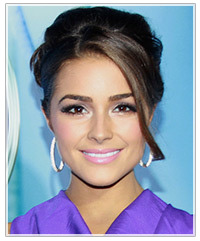 Here, Olivia Culpo shows us how to flaunt lilac makeup with a warm skin tone. The first thing to know about wearing purple is that it looks great with brown and black hair and eyes. It will instantly make them look more vibrant. Copy Culpo's eye makeup and use a sheer lilac shade on the eyelid and crease. Then, layer a cool dark brown or grey shade on the outer corners. Make your eyes pop by using a deep espresso brown eyeliner on the top and bottom lash lines.
For your cheeks and lips, try an ultra light sheer pink as Olivia has done here. Use a highlighter or light mineral powder on your cheeks to allow your natural warmth to shine though, and avoid looking chalky. The same goes for your lips- use a high gloss or sheer formula baby pink lipstick for best results.
For even more helpful makeup hints, see our full range of beauty articles and beauty blogs. You can even try some virtual makeup on your own photo or our model using our Virtual Hairstyler!