Brazilian-American actress Morena Baccarin looked stunning at the recent Golden Globe awards in a short hairdo and fresh, feminine makeup.  Morena is one example of someone who was born to wear short hair. Although she's had long hair in the past, her large bright eyes, high cheekbones and warm smile just weren't done justice until she changed to this short, up-swept 'do.  Morena has a triangle-shaped face so this ultra-voluminous style works wonders to balance out her proportions. The rich espresso black-brown shade looks fabulous with her peachy medium skin tone and dark brown eyes, not to mention her makeup palette.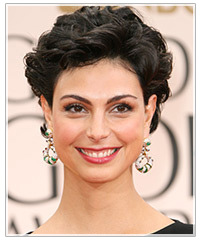 Speaking of which, let's take a look at how Morena glammed up for the Golden Globes. The focus is on her sparkling eyes, which she draws attention to with her perfectly groomed, highly arched eyebrows.  Dark brown eyeliner was used on the top lash line, followed by warm brown shades of eye shadow. Her complexion is enhanced with peachy-pink blush on the cheeks and a glossy pink lipstick.
This is a look to try out at your next big event—don't forget to add a pair of statement earrings just like Morena!
See more Morena Baccarin hair and makeup looks.