Miley Cyrus is really working this new hairdo to the max. She's tweeted pictures of her new shaved hairstyle worn down, to the side, slicked back and now in a voluminous windswept look, à la Pink. As Miley's hair has lightened up from a deep golden blonde to a peroxide blonde, her makeup has also changed. Gone are the warm golden makeup palettes and in come the white, grey and cool pink shades, which are essential for any bleach blonde.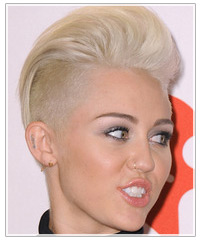 Miley actually has warm golden undertones in her skin and is lucky enough to be able to carry off both cool and warm palettes. To match her ultra light color, light pastels are more appropriate than rich warm tones in this case.

Here are the essentials to get this look:

• Choose a light silver or white shade as the base eye shadow.
• Use silver in the crease of the eye and blend it over the eyelid.
• For a softer look, use a charcoal or silver eyeliner. For something more dramatic, go for jet black.
• On the lips, stick with a sheer pastel or cherise pink lipstick. Miley's is on the peachy beige side which works with her warm skin tone, but cool skin tone will suit pink much better.