This season, grey and mauve are two of the hottest colors to flaunt when it comes to your makeup. But some of you may be stuck on how to incorporate it into your makeup bag. Here, our model demonstrates how purple and grey can be used to create a smokey, seductive look. Follow these steps to get it: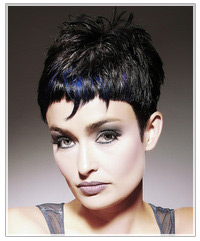 1. Mauve and grey are cool colors and therefore suit cool complexions, so if you have warm-toned skin, check out our other makeup articles to find another look to try out.
2. On the eyes, start by layering light silver eye shadow on the eyelids, crease and brow bone area. Then, go in with a striking shade of metallic silver in the crease to make your eyes sparkle. For an evening look, layer a dark charcoal on the outer corners and in the crease for extra wow factor. Complete the eyes with a dark grey eyeliner and mascara.
3. On the cheeks, use an ultra-light dusting of pastel pink or mauve blush, depending on what suits your personal preference.
4. On the lips, try a matte mauve lipstick just like our model has done. This dusty mauve shade looks oh-so-chic when paired with a smokey eye and dark, dramatic hair.