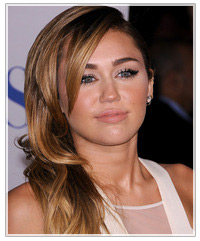 Whether you're a fan of hers or not, you can't deny that Miley Cyrus has some fantastic coloring going on. Golden locks, peachy warm skin and green-blue eyes give her a great canvas to work with when it comes to makeup.
You can do your makeup like Miley regardless of your hair color, but her palette will look better on warm skin tones rather than cool.
Here, Miley is sporting a tan and adds extra California glow with a soft bronzer on the cheeks and tip of the nose. This will give you a natural looking tan, but be careful not to over-apply to avoid the dreaded "orange circle" look.
The eyes are definitely the focus of this look and Miley brings out her sea-green eyes with a clean line of black eyeliner. She has winged it out towards the temples and added heavy mascara for extra impact. Although this is a retro-style eye, she has kept it modern looking with the bronzer and pale lips, instead the usual bright red lip that we usually see.
Miley's secret weapon is to always pay attention to her eyebrows. They're always groomed to perfection and never over-plucked. If you are lucky enough to have full eyebrows like Cyrus, embrace them! They create the perfect frame for gorgeous eye makeup.
See more Miley Cyrus hair and makeup looks.