She's no shrinking violet and it's safe to say she is not a fan of the natural look, but Joan Collins has her own signature makeup style that she has made her own. And while it may not be every woman's cup of tea, there are some women who would love to look like Joan.
This makeup style is not for the average woman who wants to look natural and fresh. This is over-the-top "look at me!" makeup for all the divas out there. If this sounds like you, read on!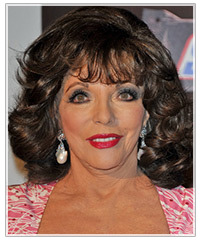 The Eyes:
Who said blue eye shadow died with the Eighties?! Not in Joan's world. Layer up sapphire-hued eye shadow on the eyelids and blend it out past the crease towards the brow bone for maximum effect.
Then, use thick black eyeliner on the top and bottom lash lines, topped off with loads of black mascara.
The Cheeks:
Joan brings out her high cheekbones with a dusting of pink blush applied underneath the apples, to give a sculpted effect.
The Lips:
Matching the intensity of her eye shadow, Collins likes to wear bright lipstick shades—usually it's red, but in this case she is sporting a powerful cerise pink color for maximum impact.
You gotta hand it to Joan, she knows what she likes and sticks with it! Complete your Dynasty-inspired makeup with an equally opulent outfit.