Cool skin should wear cool makeup, and warm skin should wear warm makeup- period. But it should never match the hair color perfectly, and here's why.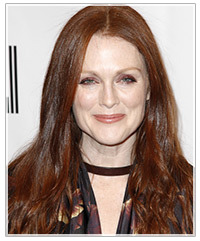 For this fail, we've unfortunately had to use a recent photo of Julianne Moore, because we haven't seen this level of matching makeup on any other celeb lately. Julianne's eye shadow, eyeliner and lipstick are almost identical to her hair color, which is never a good idea. While you can get away with the lipstick in some cases, wearing a matching shade of eye shadow (especially a deep auburn like Julianne's) creates extreme darkness and ruddiness around the eyes. Not to mention, it makes the eyes looks tired, which defeats the purpose of wearing makeup in the first place. Avoid, avoid, avoid! This especially applies to brunettes as brown is a popular eye shadow color. Always choose a shade that is a shade or two lighter or darker than your hair color to keep a good contrast going.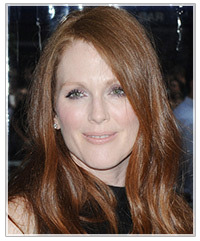 In comparison, here Julianne is wearing a light peach eye shadow, blush and lipstick which is much lighter than her hair, but enough to make her eyes stand out and her complexion glow. Plus, she looks years younger. Learn from Julianne's mistake and never match your makeup to your hair color!