Lisa Ling has a gorgeous sense of style that many Asian women find inspiring. Blessed with shiny jet-black hair, large eyes and a bright white smile, Lisa has a great canvas to work with when it comes to makeup. If you are of Asian descent, you too can look as good as Lisa by following these simple makeup tips.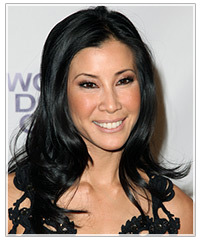 1. Lisa works with her ivory skin tone when it comes to choosing colors. She brings out her deep brown eyes with black, brown or charcoal grey shades of eyeliner and eye shadow. She likes to smoke the outer edges out above her eyelid crease to give her eyes an instant pop!
2. To add warmth, Lisa uses a matte bronzer on the apples of her cheeks. If you have rounder cheeks, apply it just under the apples for a nice slimming effect. In both cases, blend well!
3. Lisa lets her eyes and hair do all the talking, and keeps her lips nude. If you prefer to wear lipstick, choose a neutral shade that has a warm beige base for best results. For a more dramatic look, go for a blood red lipstick—this shade looks amazing on Asian complexions!