She may be one of the world's most famous models, but just like the rest of us, Linda Evangelista has to fight the signs of ageing on a daily basis too. Granted, she has access to the world's most exclusive beauty and cosmetic treatments, which definitely helps, but she also tailors her makeup to suit her age. Gone are the days of bold makeup, model style. Now, Linda keeps her makeup simple and fresh. If you are in the over-forty age category, here are some tips to get makeup like Linda.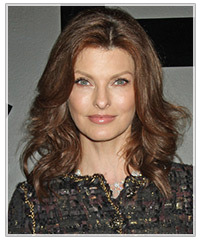 • Primer can do wonders for mature skin, and ones with illuminating agents will create even better results. Get Linda's glow by priming your skin before you apply your foundation.
• Ditch the black eyeliner and go for a soft brown shade to get subtle definition without adding the years on.
• Try a cream formula blush to add hydration and a healthy glow to your cheeks.
• Keep your lips neutral and shiny. Instead of going for bright colors in the daytime, stick to a soft rose like Evangelista.
• As we get older, our eyebrows thin out but that doesn't mean we need to start penciling in heavy, unnatural-looking brows. Keep yours soft and simple like Linda by filling them in with a powder eye shadow or eyebrow filler.
For even more helpful makeup hints, see our full range of beauty articles and beauty blogs. You can even try some virtual makeup on your own photo or our model using our Virtual Hairstyler!