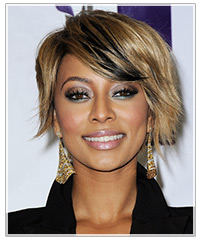 Keri Hilson was looking uber-hot in this photo, thanks to her chic hairstyle and flawless makeup. Keri has great features to work with—large, deep-set eyes, high cheekbones and a perfect smile—and her makeup works all of those features. Keri's eye shadow in particular is stunning, not to mention trendsetting. She is wearing the duo-tone smokey eye, which is going to be a very hot look this year.
Although this appears to be a complicated makeup technique, it's not. Just make sure to choose two shades that work with your skin tone and eye color, and you are ready to go. In Keri's case, she has chosen a gorgeous mocha shade for the top and cool silver for the bottom, which both look good with her brown eyes. If you want to try this at home, simply apply one shade on the bottom and the other on the top, and then use a black eye shadow for the eye crease and the outer corners on both the top and bottom lash lines. Finish it all off with black eyeliner and high-impact mascara and you are ready to rock the duo-tone smokey eye. Follow Keri's lead and keep your cheeks and lips light—try a pink shade to match cool eye shadow colors and peach for warm tones.
For even more helpful makeup hints, see our full range of beauty articles and beauty blogs. You can even try some virtual makeup on your own photo or our model using our Virtual Hairstyler!