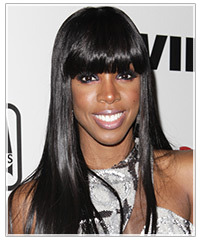 Kelly Rowland is a musical powerhouse—one third of Destiny's Child, a successful solo career, and now a judge on the UK X Factor—she doesn't look like she'll be slowing down anytime soon.  As the songstress goes from strength to strength in her career, her fashion and beauty game is also on the up.
Kelly Rowland is known for her long, straight locks, megawatt smile and large dark eyes. She takes risks with her sense of style, and has a playful approach to makeup. Women with medium dark skin like Kelly's can take inspiration from her technique and use of color.
Kelly's look is all about the eyes and the hair. Her ultra-straight tresses and eye-skimming fringe create the perfect frame for her large almond-shaped eyes. Ms. Rowland uses black eyeliner all around the eye, with charcoal grey and black eye shadow for extra drama. Fake eyelashes or generous amounts of mascara, and a nude lipstick complete her look in the above photo.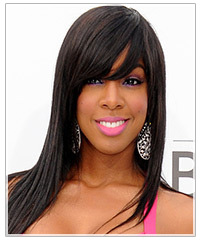 In one of her more playful looks (left), Kelly shows women with dark skin how to wear pops of color. Kelly's eyes are lined with black liner and with soft, smokey eye shadow around the eye in shades of violet. She has kept it light and clean, so as not to clash with her pink lips. Kelly has chosen a rose pink tone in matte, which tones down this powerful color and harmonizes with her soft violet eye shadow. 
See more of Kelly Rowland's hair and makeup looks.