It's great that Kelly Osbourne likes to experiment with her style, but there is way too much going on in her most recent look, pictured here.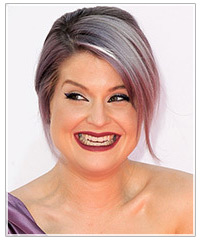 First, let's look at the hair. Brunette roots, silver lengths and faded out purple ends. There is nothing wrong with having silver, purple or brown hair, but when it's all mixed together, it becomes a hair fail. There is also a peculiar white highlight through the front. Is Kelly trying to make the 'elderly lady' look trendy? Or is this a hair color job gone wrong? On the positive side, the sleek ponytail is really working for her.
Next comes the makeup fail. Kelly is wearing jet-black eyeliner, a light white-silver eye shadow and a ruddy, matte red lipstick. Kelly's eyes are nicely lined, but a warmer shade of eye shadow would have softened this look up. Another problem is the lipstick color. Pink lipstick matches violet and silver tones much better than a deep red, but at least if she was going for a red lipstick then some lip gloss would have done nicely here. Paired with the black and white eye makeup combo, this look is harsh, matte and very Nineties. Overall, she was looking a mess at this event. Sort it out Kelly!