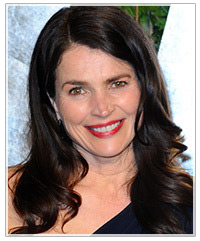 Julia Ormond is looking great for 47, partly thanks to her shiny espresso-hued locks and glowing skin. Amongst the bevy of other mature Hollywood beauties, Julia stands out with her classically beautiful features and general eloquence both on and off the camera.
This British-born beauty should also be recognized for her flawless makeup that always looks great on her mature skin. Julia has a lot of pink undertones in her complexion, so she chooses colors to minimize redness while also bringing out her sparkling hazel eyes. 
Here, Julia is working the classic red lip. This is an easy look for anyone to pull off as long as the skin tone is matched properly. For a cool pink undertone like Julia's, a dark pink-red color is the best match. Julia has also chosen a lipstick that isn't too bright or bold—a great tip for all the ladies out there with mature skin. Red lipstick can bleed into fine lines around the mouth, so choosing a softer shade looks better all around.
For her eye makeup, simple brown eyeliner does the trick and makes her hazel eyes pop. Although eyeliner and mascara would have been enough, Julia adds a soft peachy eye shadow.  Women with hazel eyes of all ages will look great in this color, so if you haven't invested in this shade yet, add it to your makeup bag!
See more Julia Ormond looks and try the hairstyles on with your own photo.