Jessica Lange is a beauty inspiration to many mature women, which is no surprise considering she looks amazing for her age. How does she maintain her youthful glow? Well, let's be honest—genetics, lifestyle and eating habits play a huge part in her appearance, but her choice of modern hair and makeup make her look even better. If you need a lift to your appearance, take a leaf from Jessica's book and style yourself youthful. Here's how: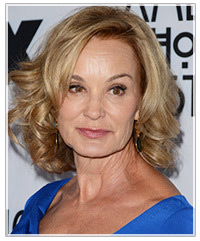 Many women assume that as you age, your hair needs to get shorter and shorter. Jessica shows us how a flirty, shoulder-length bob looks great at any age, plus it really softens up mature skin and features.
Jessica has opted not to grow old gracefully and colors her hair a lovely golden blonde color. And why not? The color suits her skin tone and warms up her complexion.
For her makeup, Jessica sticks to clean and simple colors. A little brown eyeliner and mascara brings out her large hazel eyes and her pink-nude lipstick adds just enough color to brighten up her face without making her look too made up.
But the best style tip that Jessica can give us is to radiate glamour, confidence and poise!