But you don't have to have the perfect bone structure and edgy fashion sense of a model to pull off bold brows. In fact, many Hollywood celebs have been working this trend in a more subtle and glamorous way. Take Jessica Alba, for example, who is sporting a fuller brow these days, which she enhances with the right makeup. If you are looking for a more sophisticated and less grungy way to sport full brows, give Jessica's look a try. Here's how: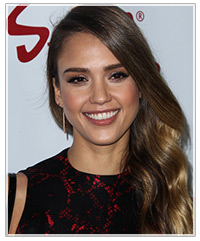 Jessica has let her eyebrows grow in naturally but has cleaned them up around the top and bottom edges to give them a smooth, polished look. She has maintained her natural brow color (after all, the mantra for this trend is the darker, the better) and used a dark brown eyeliner to really bring out her eye color.
Another technique that Ms. Alba has used to highlight her brows is  blending her eye shadow all the way up to the brow line. If done correctly, this will bring the focus to the entire eye area but more specifically to the brows. Word of caution: choose a sheer formula in a neutral color to avoid a harsh Eighties look. Jessica has used a light terra cotta tone that is slightly darker than her skin tone yet sheer enough not to look caked on.
Try this classy brow-focused look out and let us know if you enjoyed flaunting the big brow trend!
For even more helpful makeup hints, see our full range of beauty articles and beauty blogs. You can even try some virtual makeup on your own photo or our model using our Virtual Hairstyler!