Amanda Brown got her big break on The Voice, but in addition to her vocal stylings she is known for her girl-next-door-gone-glam looks. Amanda has a chic fashion sense, mixing blazers with embellished tops and leather pants, and keeps her makeup fairly light. Rather than cake it on, Amanda uses it to highlight her natural beauty and polish her look off. When it comes to her hair, Amanda keeps it simple and timeless with a shoulder-length curly bob. If you like her chic n' simple sense of style, here's how you can get it at home.
The Makeup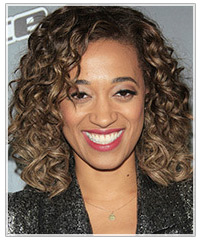 • Stick with shimmery mocha shades on the eyelids, using a lighter neutral shade in the inner corners of the eye to brighten the whole area up.
• Amanda loves to play up her cheekbones with rosy blush. Choose a deep pink shade for formal occasions or a lighter rose for daytime.
• Wear a soft raspberry shade of lipstick for a cool alternative to a red or neutral lip.
The Hair
• Amanda has an oval face and looks fabulous in this curly bob with face-framing layers. Ask your stylist to cut in long layers to give your curls more bounce.
• To get her graduated hair color, have your hairstylist highlight the lengths and ends of your hair with a light beige brown.
For even more helpful makeup hints, see our full range of beauty articles and beauty blogs. You can even try some virtual makeup on your own photo or our model using our Virtual Hairstyler!