In the Shower:
Some hair treatments only take 5 minutes to work and are easy enough to smooth through your hair while you're in the shower. So if this is when you use your hair treatment, give these tasks a whirl.
Defuzz
If you're a fan of shaving, lather up your legs, underarms and anything else that's in need of defuzzing and give your razor a workout.
Exfoliate
Grab an exfoliating mitt, brush or puff and some yummy smelling body wash and give your skin a gentle scrub from top to bottom using circular movements.
Wash Your Face
Use your favourite cleanser to freshen up your face.
Brush Your Teeth
Some people think it's weird to brush your teeth in the shower; I just say it's efficient.
Clean the Shower
Not exactly one of the most fun things to do, but its gotta be done sometime, and at least if you're on a time limit of 5 minutes you don't have to be cleaning for too long!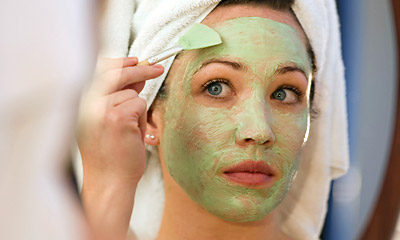 Out of the Shower:
If your hair treatment is for 10 minutes or longer, or you're being extra good and have applied it outside of the shower with your head wrapped up in a warm towel (to help the treatment penetrate your hair shaft), then you can try these time fillers:
Pluck Your Eyebrows
If you look after your own eyebrows then use this time to perform some maintenance and pluck out any stray hairs.
Trim Your Nails
Keep the length of your fingernails and toenails in check with a quick trim or file. You could even give your nails a splash of color if you've got some rapid drying nail polish on hand.
Brush Your Teeth
For those who don't like doing it in the shower.
Try a Beauty Treatment
Pamper your skin while you're also pampering your hair by applying a 10 minute face mask or by soaking your feet in some warm water mixed with essential oils.
Relax
Use the time to relax with some meditation or throw some tea bags over your eyes and lie down while your hair treatment does all the work.