But what about the time, the energy, the frustration of getting them just right without looking too overdone? Sometimes a full smokey eye is just too much work for a night out. If that's the case, why not try the Gillian Anderson "slightly smokey" eye shadow technique? It's fast, it's easy and not to mention, very modern.
Get the look: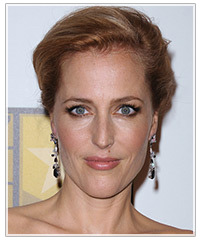 1. Sweep a soft peach or gold eye shadow across the entire lid.
2. Take a dark brown eye pencil and line the top lash line, starting 1/3 of the way in and creating a small wing tip at the end.
3. Line the outer half only of the bottom lash line, joining it to the wing tip above.
4. Get out your small angled brush and start blending! Start at the middle and then pull the pencil out towards the edges.
5. Apply mascara and a soft lipstick or lip gloss and you're done!
This makeup technique takes minutes and looks glam without going OTT. This is an essential look for ladies with small or close-set eyes—it gives you the Bambi effect in an instant!