If you read our Fall Makeup Trends 2012 blog, you would know that bold, Cleopatra-style eye makeup is hot this autumn. But this look isn't just about winged eyeliner; it has an Eighties, geometric look to it as well. This is definitely not a look for wallflowers, so if you like to turn heads wherever you go, read on!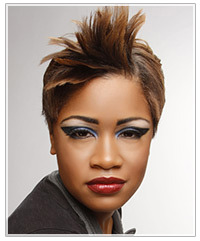 To get this look, you need to think "Grace Jones". Get out the eyebrow pencil and start filling in those brows. Once you have your bold brows, it's time to move onto the eye shadow. Our model is wearing a white base shadow on the lids and brow bone, with black shadow added in the crease and winged out to the sides. For some extra Eighties appeal, she has applied intense blue eye shadow to the lids and bottom lash line as well.
Next come the lips. For any other look, red lipstick with black and blue eye shadow wouldn't work. However, this look is pure avant-garde so you can go for it. Our model is wearing a deep blue-based red shade of lipstick. Stay away from orange-reds in this case. Or if red isn't your thing, you can also go for a nude lip and let your eyes do the talking.
Are you brave enough to try this look out? Let us know how it goes in the comment box below!