Every celeb has an off-day and on this particular day, it was Diana Sorbello. It's a shame that Diana's gorgeous complexion and super-healthy hair was overshadowed by her makeup disaster, but let's not dwell on that. Let's learn from her mistakes to avoid a similar makeup meltdown on our next evening out. So what went wrong?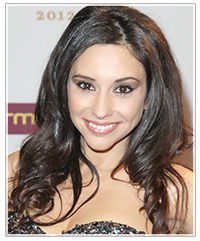 The main problem with this look is the eyes. Diana has a lovely set of brown almond shaped eyes that have an upturned, cat's eye look. Women everywhere covet this eye shape, so it's a shame Sorbello's makeup artist didn't work with their natural shape. Instead, they used harsh, unblended brown eye shadow to create giant 'wings' that connect with the edge of the eyebrow—not a good look. Better blending could have made her eyes look softer while still being dramatic, and leaving some space between the eyebrow and eye shadow would have reduced the "raccoon" effect.
The second problem is the eyebrows. While we are all for filling in sparse brows, Diana's look unnatural and are completely different shapes. Use a soft pencil or shadow to fill in your brows where needed rather than fill in the whole brow, which looks unnatural.
Diana is a natural beauty, but in this case her makeup hinders her. Better luck next time Ms. Sorbello!