Twilight beauty Christian Serratos debuted a dramatic lighter look recently, which may have come as a shock to the thousands of fans who have grown used to her dark locks. Her colorist made sure to give her a natural looking blonde that harmonized with her olive skin tone and dark eyes—not the easiest thing to do.
Having light blonde hair with Latino skin can be tricky—most women end up with a butter yellow shade like Shakira because their natural hair color has so much warm pigment in it. However, Christian Serratos obviously has an excellent colorist, and she shows us that rocking a beige blonde shade looks fabulous on Latino skin. And, her powdery-soft makeup matches her soft blonde to create a stunning effect.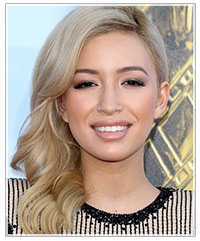 Christian can now enjoy wearing lighter shades of makeup, as seen here, that may have washed her out as a brunette. On her eyes, she is wearing warm mocha eye shadow with a coffee brown shade in the crease. Her cheeks are warmed up with a beautiful rosy bronzer and her lipstick is a barely-there nude pink shade that has a bit of a shine to it.
If you have olive or tanned skin and are contemplating lightening up to blonde, invest in some pretty makeup shades like Christian to make the most of your new hair color.