Brooke Lyons is an exotic beauty that usually looks flawless—and with her dark hair, tanned skin and bright blue eyes it mustn't be that difficult after all! However, at the recent Twilight premiere she was looking less than fabulous, and it was all down to her makeup. Here's what went wrong: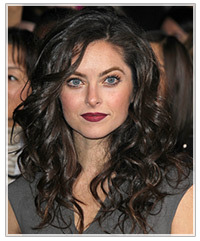 • The eyebrows: Brooke's eyebrows are full with a high arch- lucky her! But for some reason they have a slightly reddish brown tinge to them here- either due to lightening them slightly or filling them in with the wrong shade of pencil. If you have dark brows, avoid trendy lightening techniques as it never looks as good as your original color, and choose a matching pencil to fill them in instead.
• The eye makeup: Brooke has amazing blue eyes that pop simply from the contrast with her dark hair. However in this photo, a warm terra-cotta shade was used to intensify them further. This color choice is too warm for Brooke and a cool grey or brown would have been a better choice.
• The cheeks: A ruddy orange bronzer was applied to Brooke's cheeks, making her skin look matte and blotchy. A light highlighter would have worked better here, or nothing at all.
• The lips: This dark berry matte shade doesn't match with the warm orange shade on her cheeks and eyes, and would have looked better with a simple cool black eyeliner instead.
Overall, her makeup tones clash, are too matte and give an overall Eighties vibe—not a good look for the red carpet!
For even more helpful makeup hints, see our full range of beauty articles and beauty blogs. You can even try some virtual makeup on your own photo or our model using our Virtual Hairstyler!