One mistake that we as women often make is to apply more makeup as we age. Whether we are trying to look younger, brighter or just less tired, wearing more makeup can help in certain cases- but it can have the opposite effect in others. Women with mature skin will certainly look fabulous when they glam up for a night out, but for day-to-day wear, why not find a fresh style of makeup that will make you look confident and youthful?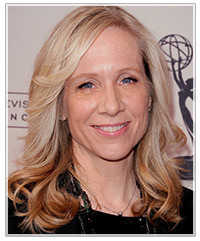 Here, Betsy Beers shows us how to embrace mature skin with this effortless day look. Here's how to get it:
1. Use a sheer liquid foundation or mineral powder to let your natural glow shine through. Heavy liquid foundations will only enhance lines and wrinkles, so finding an ultra-light formula is a must for mature ladies.
2. Like Betsy, use a brown eyeliner on the top lash line to enhance your eyes. Don't be tempted to line your whole eye, it will only add darkness- and years.
3. There's nothing more ageing than a dark, matte lipstick, especially on thin lips. Try a sheer pink like Beers with just a hint of sheen. Not only does this color look fresh and modern, it's also great for plumping up the appearance of lips!