The usually glam Ashley Tisdale was caught having an off day recently. Ashley seems to be getting in the spirit of summer, dying her naturally dark hair to a light blonde shade and sporting bronzed skin. Unfortunately her makeup is half winter, half summer- creating a cosmetic clash! So what went wrong?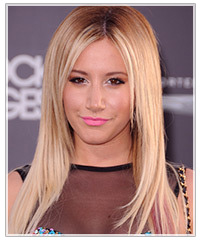 Ashley has naturally dark hair and eyes, with a lot of warmth in her skin. The hair color may be slightly too cool for her skin but she can pull it off with the right makeup… which is not happening here.
On her eyes, Ashley is wearing a bronze eye shadow and dark brown eyeliner. This brings out her deep eyes and is suitable for an evening or fancy occasion. A nice nude lipstick would have topped this look off nicely. Instead, Ashley has opted for an icy bubblegum pink- ouch! This shade is better suited for fair cool skin, but again she could have pulled it off with a simple mascara-only eye, where her bright lips and light hair would take center stage.
The lesson? Never blend cool and warm colors on your face and always work with your complexion for best results. And remember, makeup trends like bright pink lipstick will not work for everyone.