Alex Breckenridge lit up the red carpet at this year's Emmy awards not only with her sophisticated hairstyle but also with her glamorous makeup. All of the fashion critics agreed she was looking polished from head to toe, and her little tattoo poking out was a nice touch to her red carpet look too!
If you have fair skin and a warm tone to your hair, this makeup will work just as well on you. Here's how to get it: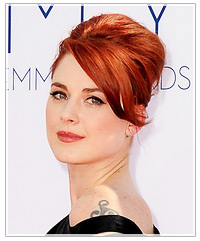 • Start with an apricot or coral eye shadow and apply it to the eyelids and brow bone. Don't go overboard here—copy Alex's technique and use just enough to add a bit of color.
• Use a thick black liquid eyeliner to create a simple line on the top lash line that wings out slightly at the outer eye corner.
• Follow up with black mascara on both lash lines, top and bottom.
• Apply a soft apricot blush to the cheeks, just underneath the apples where the 'hollows' are.
• Finally, use a deep pink lipstick to tie it all together.
Don't forget to rock a sophisticated hairstyle to match this glam makeup look! Try a chignon, French twist or bun for best results.