That's right—get ready to see everything from furniture to fashion to cars in this deep jewel hue. And of course, green will be big in makeup too, but you won't be limited to just emerald. Every shade of green, from mint to forest green will be in vogue, and the good news is, green looks good with every skin, hair and eye color as long as you choose the right shade. Here are some ideas to get you started: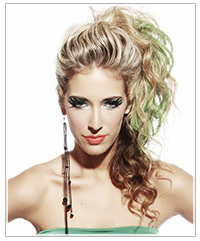 Our model wears mint green eye shadow—a great choice for ladies with light brown or blonde hair and a fair skin tone.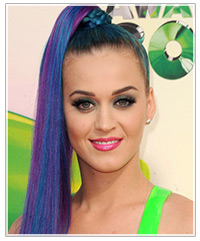 Ignoring the fact that Katy Perry has blue and purple hair here, this is the perfect shade of green for ladies with tanned or olive skin, with light or dark eyes. This smokey emerald green eye shadow looks amazing on darker features.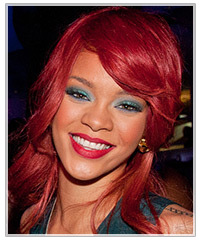 Rihanna shows how hot teal green eye shadow can look on dark skin. Go for a metallic teal shade paired up with dark emerald eyeliner for a smoking hot look. Here, Rihanna pulls off teal with clashing red hair, but this shade looks striking with dark brown and black hair too.
For even more helpful makeup hints, see our full range of beauty articles and beauty blogs. You can even try some virtual makeup on your own photo or our model using our Virtual Hairstyler!