Height Filled Updo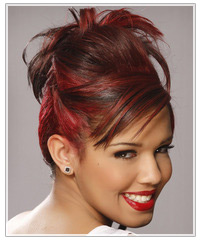 While fine hair can sometimes look a little flat, you can counter the lack of volume in your hair using various styling techniques. One of these techniques includes styling your hair into an updo that has plenty of height and volume. This gorgeous 'do uses backcombing and some fancy hair pin work to create a great looking style that will do you fine hair justice.
Deep Side Hair Part
No matter the type of hairstyle you are wearing, or the length of your hair, adding a deep side hair part will instantly add hair volume to any look. This is a must for fine hair and can help take your look from flat to fantastic with very little effort. Start the hair part as far over on the side of your head as possible, and even try to part your hair on the side you don't normally wear your part to add some extra lifting power.
Jagged Cut Shaggy Hair Layers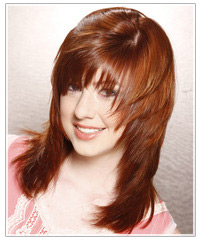 Another great way to keep fine hair from looking lifeless is to use shaggy cut hair layers to instantly inject movement into your locks. The jagged layers of this straight look keep the fine hair strands from just hanging flat against the head with no real purpose or movement. If you want more life in your locks then this is definitely a hairstyle worth copying.
Backcombed Half Up Half Down Hairstyle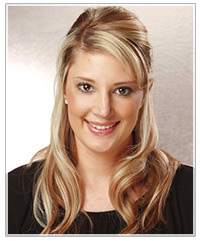 Our final straight hairstyle idea for fine hair involves a classic half up half down hairstyle. This great look has been enhanced for fine locks with the use of backcombed roots to inject some height into the style. The rest of the length is then left to fall into a casual straight texture, making this a great hairstyle idea for the weekend.
You need to be a member to post comments. Sign up Or Login