Adding bangs to your hairstyle is a great way to create a new look without sacrificing the length of your hair or using hair color. But as with a new haircut or hair color, if you choose the wrong type of bangs, you could end up with a new look that isn't exactly the right look for you.
To avoid getting bangs you'll regret, do your research first and choose the right bangs by looking at the ultimate deciding factor – your face shape.
The Right Bangs for Your Square Face Shape
Square face shapes have an angular jawline so bangs that will draw attention to the upper part of your face, especially to the eyes, are ideal.

Full, Diagonal Bangs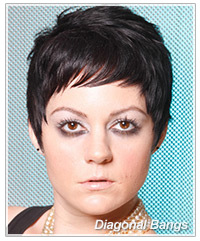 Bangs that run fully across your forehead with a diagonal element should give your face shape the illusion of roundness rather than squareness.
Long, Side-Swept Bangs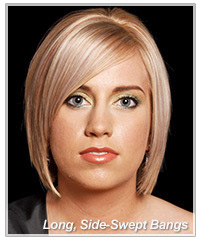 Long, side-swept bangs will draw attention to the eyes, create softness, and will minimize the squareness of your face shape.
The Wrong Bangs for Your Square Face Shape
Bangs that shorten the length of your face, create a box around your features, or cover up the majority of the top section of your face will only enhance the square nature of your face shape.
Heavy Bangs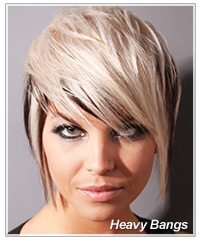 Heavy bangs that will hide your entire forehead will only bring attention to the square jaw area of your face shape.
Straight Across Solid Bangs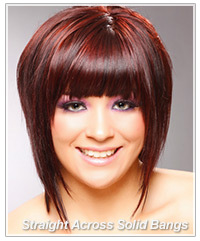 Solid bangs that run straight across will instantly shorten the length of your face shape and create a square shape across the top half of your face, which is something a square face shape needs to avoid.
By knowing which bangs to try and which ones to avoid, you can reap the rewards that bangs can offer to your face shape, hairstyle and look.
To see if these bangs will suit you, click on the images for a link to try the virtual hairstyle on your own photo or our model. If you're after more options then visit our hairstyle categories for plenty of great bangs hairstyle ideas.