Every few years the pixie haircut re-emerges and takes the world by storm. This year we are in love with this classic look all over again with Hollywood's leading ladies showing us how it's done. Michelle Williams, Charlize Theron, Jennifer Hudson and Halle Berry are just a few of the women we think of when we talk pixie cuts in 2014. These starlets show us how amazing the pixie cut can be, so much so, that it makes us want to run out and copy the look. But are you bold and brave enough to actually do it? Well, if you aren't attached to your long locks and have a whole 'lotta confidence- take the plunge and go for this sweet crop. Your cheekbones will look killer and your beautiful eyes will pop!
Here are a few tips for women who are thinking of getting the super short pixie hairstyle this year:
• Pixie cuts tend to look best on oval, square, and heart-shaped faces.
• Think about the maintenance- it's essential to keeping this cut looking sweet. You will need to get a trim every four to six weeks to maintain the shape and style.
• Consider your hair type- it will determine how short you can go.
• Coarse hair must be kept on the shorter side with lots of product to tame it.
• Curly-haired gals should choose a length that shows off those beautiful natural waves without making them look frizzy.
• Straight hair tends to have more possibilities but will need a highly technical cut from a great stylist who know how to shape it properly.
• With your new crop you will need to adjust your makeup. Less is more when it comes to the eyes as they will naturally take centre stage, but do try a bold lip color. It will emphasize the lower part of your face, balancing out the overall look.
• Make a consultation with an experienced stylist and don't forget to bring lots of pictures! Not all pixies are created equal and your stylist will need a visual of what you want to achieve.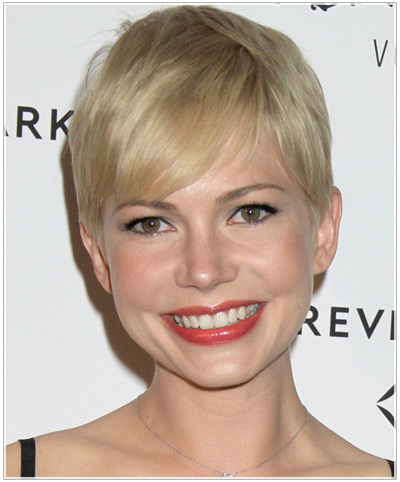 Michelle Williams looks ultra- feminine with this side-swept blonde crop. She has been wearing many variations of the pixie for a few years now, keeping her short 'do fresh and fun. With her natural beauty showcased and her inner confidence always shining through, she is a true pixie cut icon.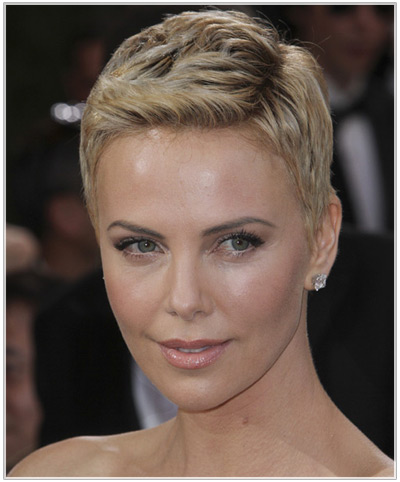 Yes, this woman is drop dead gorgeous and would look good wearing a paper bag on her head, but her chic pixie cut deserves to be noted. This is a stunning look on Charlize- her beautiful, feminine features allow her to wear this super short androgynous, punk rock style with ease. And, she makes it looks classy too. Style kudos to Charlize Theron for this one!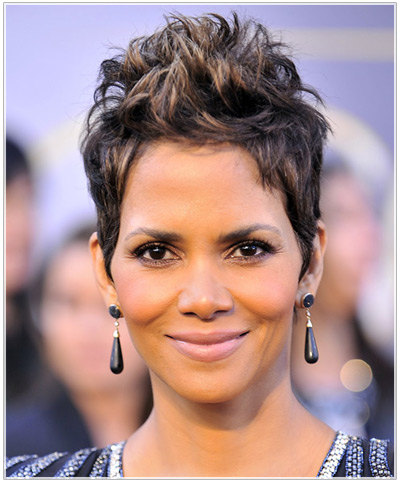 Another pixie-wearing icon and all around stunner is Halle Berry. Her hair motto must be: if it ain't broke don't fix it! Halle has been wearing her hair cropped into a pixie cut for as long as we can remember. This version is cool and funky. Just look at all the height and texture!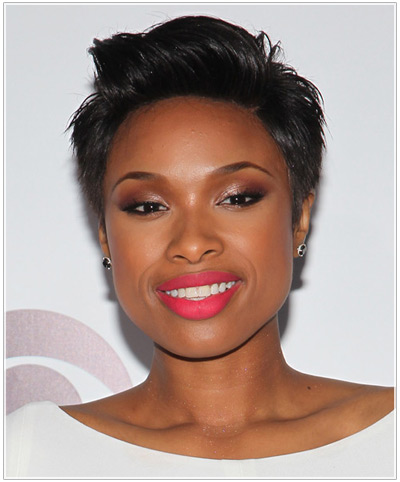 Jennifer Hudson is the latest Hollywood celebrity to sport a sassy new pixie cut. Jennifer's crop is spiked and teased, giving it an edgy vibe that looks great with her bright pink lippie!