The Right Hairstyle for Your Round Face Shape
The object is to add length and avoid width.
Hairstyles to Try
Hairstyles with height and fullness at the crown will give the illusion of a narrower face shape, particularly those short in length.
Longer hairstyles or ones that are kept close to the cheeks with no width will look better.
Middle parts are great for creating the illusion of narrow length.
No bangs are the ideal as the focus point becomes the bridge of the nose, creating a more oval shape.
If bangs are used they should be swept across, or in the case of solid bangs, only where there is substantial height on the top.
Short hairstyles are great and do not suffocate small round faces.
Hairstyles to Avoid
If you like any of the following hairstyles, click on each image for larger views, how to style steps and a try on link for the virtual hairstyle.
The Right Short Hairstyle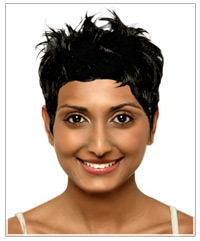 This hairstyle adds height and makes our round models face appear longer than it actually is. People with round faces need to add height not width, which is exactly what this hairstyle does.
The Wrong Short Hairstyle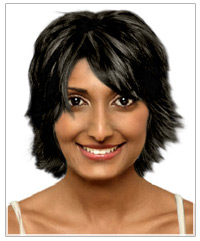 This hairstyle makes our round models face appear even rounder and wider. The bangs make the face shorter while the sides that kick out once again promote width. This is a good example of what not to wear.
The Right Medium Hairstyle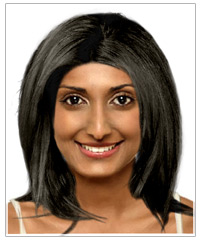 This hairstyle gives the appearance of an oval shape. The sides help slim the face down, while no bangs show off more forehead and therefore a longer shape. The off centre part helps divide the face evenly making it also appear longer rather than wider. It's a nice look!
The Wrong Medium Hairstyle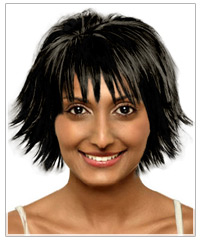 This example shows how adding width rather than length to round face shapes is disastrous. The bangs shorten the face while the hair that kicks out only accentuates width and roundness. This is a nice hairstyle but is definitely not good for round face shapes.
The Right Long Hairstyle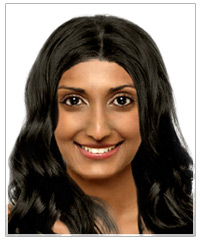 This soft layered look is fabulous for our models round face shape. The middle part helps divide her face into two longer portions while the absence of bangs doesn't compromise any vertical length. Straight hair would actually be more suitable and slimmer in design but this example shows a good indication of how shape is everything in hairstyle design.
The Wrong Long Hairstyle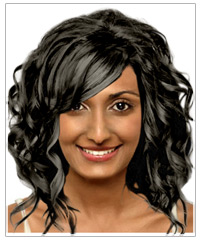 This hairstyle shows how a round hairstyle and a round face really don't complement each other. Although having this much volume at the crown can sometimes be a good thing, this style adds width to the sides which makes the face appear larger and incredibly round. The bangs are a nice touch but cover the face up too much. It is a lovely hairstyle but it is just not suited to a round face shape.
Now that you know your face shape and how to choose the right hairstyle, why not take a look through TheHairStyler.com's range of hairstyles for round face shapes?
We have 1,000s of different styles for you to choose from which can be viewed on your own photo or on one of our models. You can even use our Find Your Perfect Style hair consultation to find the hairstyles that match your face shape!