Need a makeover so you look great for all your end of year parties? Well look no further. Below are three of our favorite suggestions for perfect party hair. Take a look, read our styling tips and try one on using our Virtual Hairstyler. Looking great during the silly season is easy with a perfect party hair makeover!
1. Short Layered Hairstyle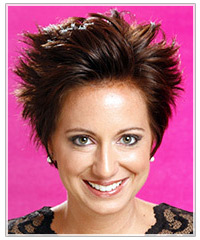 Try this hairstyle because:
It's a fun hairstyle with plenty of height and definition. Jagged-cut layers create softness and an overall funky appeal. It's relatively quick to style too.
Styling tips:
You only need a little bit of hair product to style this look. The trick is to use your fingers to create height; also, allow the product to dry naturally.
2. Medium Curly Hairstyle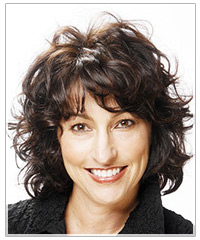 Try this hairstyle because:
It's a great hairstyle if you have fine hair or medium hair and you're looking for a little more volume. Full bangs soften the face and layered sides help draw attention to the top.
Styling tips:
You'll need your curling iron for this hairstyle- use it to add waves from the mid-lengths to the ends. For some great advice on how to use a curling iron check out "Hair Straighteners & Other Hair Shaping Tools of the Hair Trade."
3. Long Sleek Hairstyle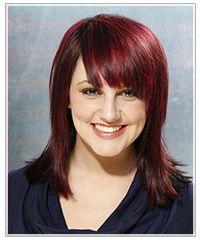 Try this hairstyle because:
It's a sleek and sophisticated look with a soft finish that will suit after dinner drinks perfectly.
Styling tips:
Get yourself a good blow-dryer and to create the smooth and sleek look make sure you point your blow-dryer downwards, guiding the heat down the hair shaft.
For more great party hairstyles have a look at articles like "Evening Hair Tips for Parties and Outdoor Occasions" and "Hairstyles Gallery: Pictures from the Oscars, 2009."
You need to be a member to post comments. Sign up Or Login