Tamara Taylor stepped out recently looking hot in a super-sophisticated layered bob. This haircut works fabulously with her large eyes and wide smile, and of course, her oval face shape.
If you have an oval face shape, you are blessed with the ability to wear almost any style-but if you want something that is low maintenance, a bob is the best way to go. The only problem with bobs (especially ones with bangs) is that they can often look too boxy, or on the flipside, juvenile. Tamara Taylor demonstrates how to add some sophistication to a standard pageboy bob by adding loads of layers throughout her 'do.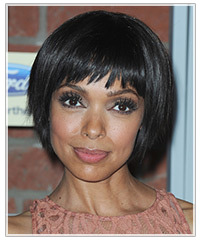 If you want to copy this look, ask your hairstylist for a jaw-length bob that tapers in at the ends for a rounded shape. Then, ask him/her to cut into your fringe to create jagged layers-this can be done with scissors or thinning shears depending on what look you want to achieve. Make sure that your bangs are skimming your eyebrows for best results.
Compare this older photo of Tamara: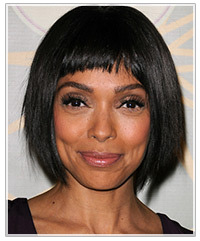 Her layered bob looks fantastic at this slightly longer length, but the super short bangs elongate her face, which as an oval, you don't want. Keep everything in proportion with an eyebrow-skimming straight fringe instead.
You will find this easy-to-do hairstyle will always look chic and sophisticated, day or night.
You need to be a member to post comments. Sign up Or Login