Hairstyles to Try
Styles that are short to medium in length with longer top layers without height are best suited such as wedge and graduated bob cuts.
Chin and shoulder length looks that turn under or kick out also work very well to add width.
Straight across bangs with side parts work best.
Layered styles in medium and long lengths that add body in with wavy and curly textures are great for softening the straight long lines of oblong face shapes.
Hairstyles to Avoid
Hairstyles that add height at the crown or on top will only lengthen your face.
The absence of bangs.
Wispy chin length styles that have no body or that don't add width through the sides should also be avoided.
If you like any of the following hairstyles, click on each image for larger views, how to style steps and a try on link for the virtual hairstyle.
The Right Short Hairstyle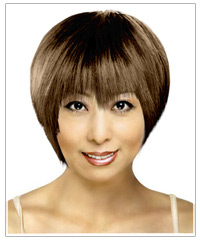 This hairstyle is a very good example of how people with long oblong face shapes should wear their hair short. The heavy top layers fall into a rounder shape while the bangs almost halve the vertical length making the face and chin appear shorter and more balanced. This same shape will work on any other hair texture.
The Wrong Short Hairstyle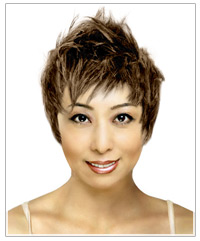 The worst thing that oblong face shapes can do is to make their faces appear even longer, as is the case with this hairstyle. Height on top is the obvious culprit and should be avoided at all costs. This is the wrong hairstyle for the wrong face shape!
The Right Medium Hairstyle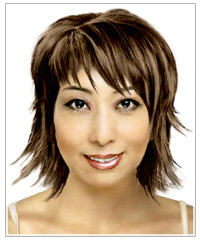 This is a very nice hairstyle shape to compliment long faces. The bangs in the front help to make the face appear shorter, while the layered sides and back that kick out create needed width. Waves or curls would work just as well, even slightly shorter if required.
The Wrong Medium Hairstyle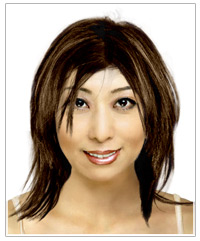 The wrong hairstyle is shown very well for long oblong face shapes. The middle part creates more vertical length while the flimsy sides do nothing to build width. This hairstyle lacks body and needs to be shortened in shape (not length).
The Right Long Hairstyle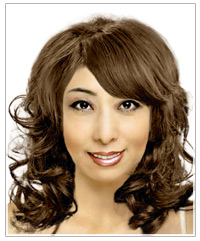 This is a soft wavy hairstyle with body that really suits our oblong face shape model. The bangs help to shorten the overall length of the face while the layers help add body and bounce creating needed width. This shape will work in straight or curly textures.
The Wrong Long Hairstyle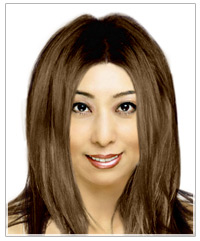 This is very good example of a poor choice of hairstyle selection for our model. The hairstyle makes her oblong face look even longer than it actually is due to the middle part that divides the shape into two longer portions. The all straight one length sides and back also only add to vertical length.
Now that you know your face shape and how to choose the right hairstyle, why not take a look through TheHairStyler.com's range of hairstyles for oblong face shapes?
We have 1,000s of different styles for you to choose from which can be viewed on your own photo or on one of our models.