It's really worth thinking about different periods in history and the way they can be characterized by different women's hairstyles. For example there's ancient Greece and its braided hair, plaits and updos, the Regency period with its curls and of course the vintage period of bobs and finger waves. Looking back on a history of women's hairstyles is interesting because you get to think about the way women's hairstyles have evolved.
But also, taking a trip through hairstyle history is a great way to find inspiration for the present. Many hairstyle fashions are reincarnations of classic styles of the past— the bob is a well known example and so is pretty much any retro vintage hair worn by Dita Von Teese. So, with a bit of careful analysis of history you might find something you like— something no one else is wearing— and perhaps even start a new hairstyle trend. Below are some examples of our favorite periods of history and some of the current celebrity hairstyles they've inspired.
Grecian Goddess Hairstyles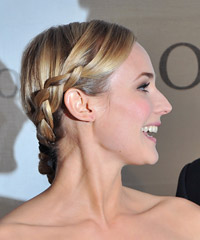 The Greeks can be thanked for a lot of things, and sexy braided hair is definitely one of them. There's a lot of great information about the various women's hairstyles worn in ancient Greece, and alongside loose braided updos and half updos, Beauty and the Bath also notes the popularity of buns and hair accessories like crowns, scarves and colored fabric. Check out Lena Heady's Grecian Goddess hairstyle in the movie 300 and for some more modern interpretations see our pictures of Diane Kruger's braided crown and Amanda Bynes' boho braids (above).
Regency Hairstyles
The Regency period (early 19th Century UK) was named that way because George IV was instated as Prince Regent. Popular hairstyles are said to have included loose buns, braids and flowing ringlets— many of which are also influenced by ancient Greece. Another popular look was to wear masses of curls drawn up at the back and parted at the front with ringlets left to hang over the ears. To see some "authentic" Regency hairstyles take a look at the 1995 film Pride and Predjudice, particularly Jennifer Ehle's hairstyle (Elizabeth Bennet). For a modern spin there's Alexa Vega's updo and Serena Williams' medium curly hairstyle (above). Don't forget Neo Regency men's hairstyles too.
Roaring Twenties Hairstyles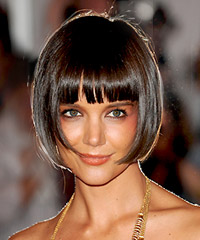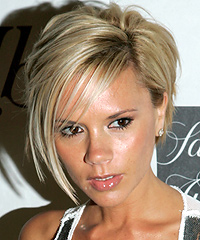 The Roaring Twenties refers to the buzzing cultural period just after the end of WWI and before The Great Depression of 1929. A hugely influential style worn notably in this period by film star Louise Brooks is the bob hairstyle. Some say the bob (thanks also to Vidal Sassoon) has since become a truly classic hairstyle. Louise's was a sleek and sharp bob and Katie Holmes kick-started the bob craze yet again a few years ago by wearing hers almost exactly the same way. One of the reasons the bob has been so influential is because of its versatility, a great example of which is Victoria Beckham's concave bob.
Postwar Hairstyles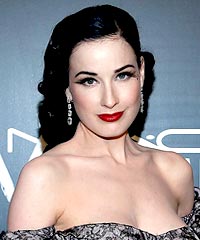 The postwar period is the Marilyn Monroe era of the late 40s and early 50s. This period has had a huge influence on women's hairstyles today thanks to the rebirth of burlesque performance— most significantly Dita Von Teese's brand of burlesque. Characteristic of the postwar are side parts, finger curls and medium wavy hairstyles like Ingrid Bergman's in Casablanca. Today, Katy Perry's hair does a pretty good impersonation of Marilyn Monroe's upswept wavy hairstyle, and Dita Von Teese is often seen with striking postwar curls pulled over to one side and complemented with perfect vintage accessories.
This is a selection of some of our favorite historical periods of women's hairstyles and their contemporary interpretation by some of today's most popular stars. Elements of the hairstyles shown can be traced back to these eras, and each proves how the past— especially fashion from the past— can be a great source of ideas and inspiration for the present. In "Women's Hairstyles Through the Ages, Part Two" we'll look at the 1960s and beyond.