A classic and feminine hairstyle that every woman can pull off is the sophisticated wavy side swept 'do. Not only does this hairstyle show off your shoulders and neck in an utterly gorgeous fashion, it only takes minutes to style. Plus, it will bring attention to that great pair of earrings you are wearing! For those who haven't tried this style before, here is how you can achieve it in just a few simple steps.
1. Wash and towel dry your hair, adding some root booster or curl enhancing spray if you wish.
2. If your hair is straight, begin to section your hair off and start adding waves with a curling iron, wand or hot rollers. Hot rollers will give you corkscrew curls, a wand will give you looser beachy waves, and a curling iron will give you more uniform curls. If you have wavy or curly hair, add some curl enhancing mousse or spray to minimize frizz and maximize bounce.
3. Part your hair as you normally do (or change it up for a different look) and sweep one side around the back of the neck and pin it at the nape.
4. Use hairspray to keep it all in place. Feel free to add a clip, pin or other adornment to really make your 'do stand out.
Now that you have the technique down, here are some celebrity hairstyles to get some inspiration from!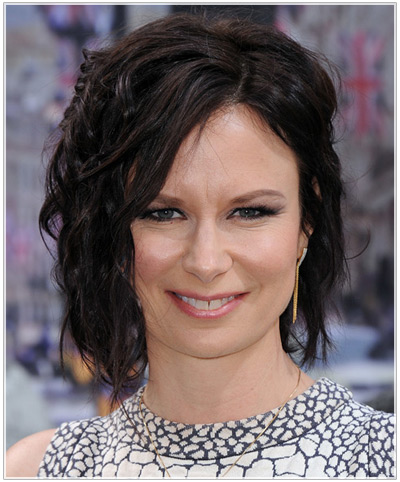 Mary Lynn Rajskub looks hot in this short version of the side swept wavy hairstyle. This is a sexy option for women with short hair that is naturally straight, wavy or curly. If you have straight hair, use a small curling wand to get these kinky waves. Leave the ends out for that edgy pokey finish. Mary Lynn has pinned her hair behind the ear, but ladies with short hair can also twist, braid or roll the hair towards the other side to get a tighter, more obviously side swept look.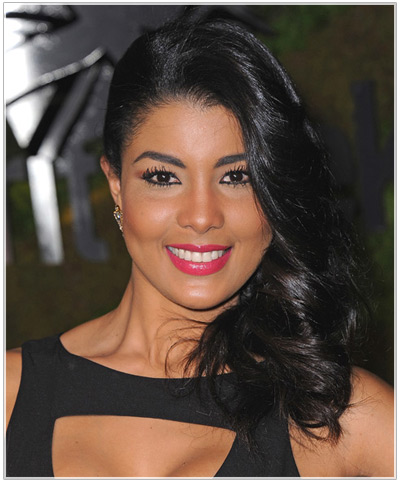 Sarodj Bertin flaunts a sophisticated version of this hairstyle that is perfect for women with medium length hair. This voluminous look is achieved by using large rollers to first set the hair, then sweeping one side to the back and pinning it into place. Sarodj's part is just off centre here, but this hairstyle would also look fabulous with a deep side part. Bonus style points go to her glossy raven black locks and bright pink lipstick!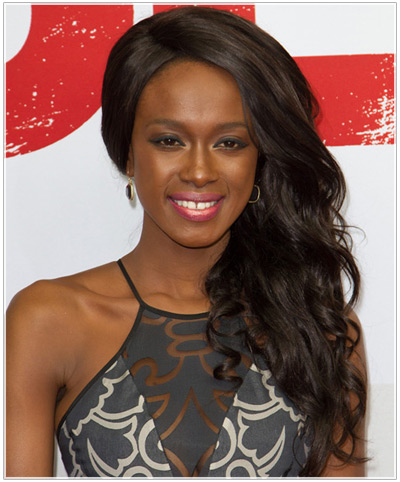 Finally, Joelle Kayembe shows us how to work a high volume side swept wavy hairstyle for long hair. This is an ultra glamorous look that is created by first setting the hair in rollers and then adding extreme volume throughout the crown by backcombing. Notice how her diagonal part adds a chic finish to this hairstyle. Not to mention, her soft pink lipstick looks amazing with her charcoal grey dress. Kayembe gets an A+ for her overall look here!
As you can see, this hairstyle can be modified in many different ways to make it unique. Try changing up your waves (loose and beachy versus uniform waves), adjusting your part (side, centre or diagonal) and/or adding in some hair accessories.