Actress Vanessa Lee Evigan has been on the big screen since she was 8 years old, and since then we have seen her go from brown to blonde to auburn and back again. Currently, Vanessa is flaunting a gorgeous honey blonde shade with sun-kissed highlights and a softly layered cut to match. Even though she is naturally brunette, the blonde color is the perfect match for her complexion, and the cut is the perfect match for her face shape—a heart.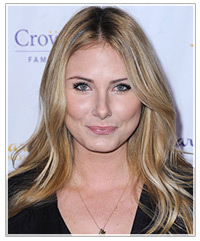 If you have a heart-shaped face, you join the likes of Jennifer Aniston, Naomi Campbell and Jennifer Love Hewitt. Like Vanessa, these heart-shapes know what haircut suits their face and they stick with it. Here are the key features of Vanessa's haircut that will suit fellow heart-shaped faces.
• Vanessa's hair is long, with lots of soft layers cut in around the face and throughout the lengths and ends.
• A centre hair part works well with this cut, but for those who have high foreheads, a long fringe would work better.
• Vanessa has added loose body-building waves which can really soften up a prominent chin (a common feature in heart shapes)
Pair it with some flawless highlights and this is a must-have look for a heart-shaped face!
You need to be a member to post comments. Sign up Or Login