While the right bangs make a great addition to any hairstyle and can turn an average look into a head turner, the wrong bangs can change your face shape and add unnecessary styling time to your mornings as you struggle to make unsuitable bangs look good.
To avoid such extremes and getting bangs you'll regret, do your research first and choose the right bangs by looking at the ultimate deciding factor – your face shape.
The Right Bangs for Your Diamond Face Shape
To make the most of a diamond face shape your bangs should help to shorten the length of your face to achieve a much more flattering shape.
Choppy, Side-Swept Bangs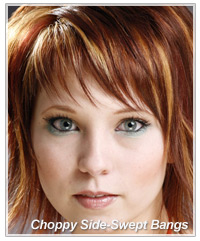 The length of these choppy bangs will immediately shorten the length of a diamond face shape and the side-swept styling of the bangs creates a soft and flattering look.
Straight Across, Eyebrow Length Bangs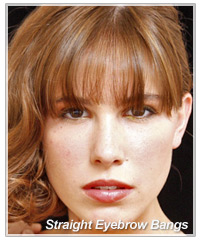 Straight across bangs that reach your eyebrows will cover up the top half of your face, reducing length and width.
The Wrong Bangs for Your Diamond Face Shape
The length of a diamond face shape can very easily be exaggerated by the wrong bangs so anything that is going to add unwanted height to your long face should be avoided.
Short Bangs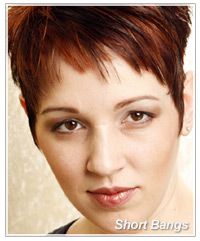 Short bangs that stop above your eyebrows will instantly lengthen your face.
Mini Bangs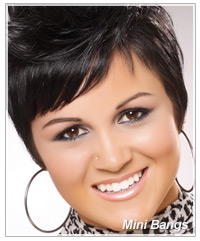 Super short bangs like these mini bangs will give the illusion of height, adding length.
Bangs are really suited to long face shapes so including them as part of your hairstyle can really create a great look for you.
To see if these bangs will suit you, click on the images for a link to try the virtual hairstyle on your own photo or our model. If you're after more options then visit our hairstyle categories for plenty of great bangs hairstyle ideas.